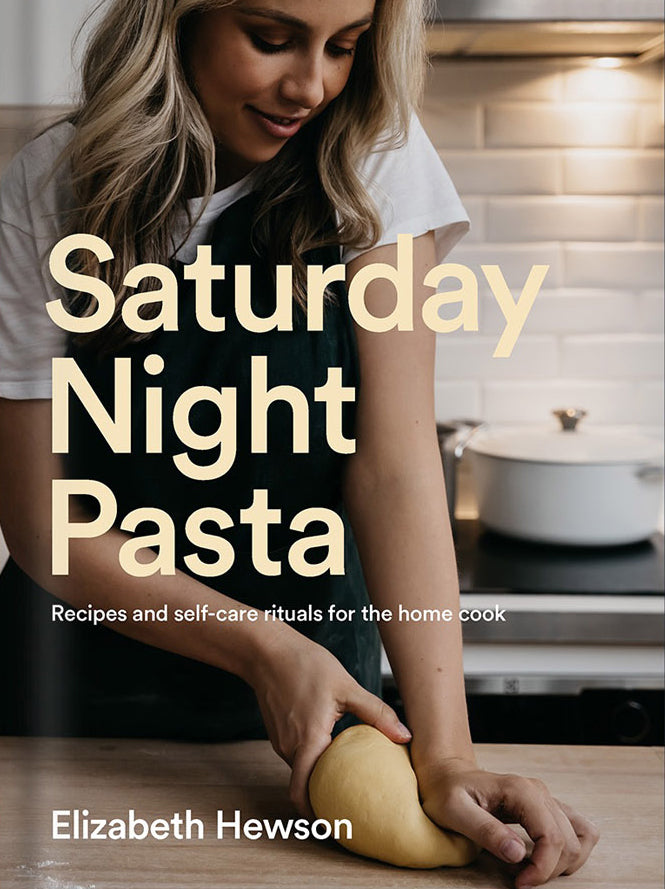 THE BOOK
'This is not a dramatic tale of overcoming incredible adversity or surviving some kind of disaster. No loves have been lost, no hearts broken. This is a rather ordinary tale, of finding myself and forming a ritual of self-care that I like to call Saturday Night Pasta.'
Saturday Night Pasta teaches self-care through the humble act of making pasta, with stories, mantras, step-by-step guides to different pasta shapes and 40 delicious, modern recipes. 
BUY
PETER GILMORE

"Lizzie is the real deal, a passionate cook who has found a tonic to help deal with our stressful modern world"

MELISSA LEONG

"Ever on the pulse of the zeitgeist, Elizabeth Hewson's Saturday Night Pasta hones in on more than a love of our favourite carb: substantial foods that take time to perfect are nourishment for the soul in times of uncertainty, giving us far more than just a full and happy stomach"

JILL DUPLEIX

"Impressive, inspiring and charming – and you end up with Saturday night dinner. This book is so right for our times"

LENNOX HASTIE

'A beautifully crafted book, full of wit and wisdom, stories, and practical tips. Saturday Night Pasta demonstrates the restorative power of good food and inspires a new love for making pasta.'

MYFFY RIGBY

"So what equips her to write about one of the oldest cuisines on the planet? She'd be the first person to tell you, "nothing". But she'll also be the first person to tell you, "that's not the point". This book is not about creating perfect pasta. It's about her ability to harness the roaring rapids inside her head and turn them into a project of self-care fuelled by flour, eggs and water."